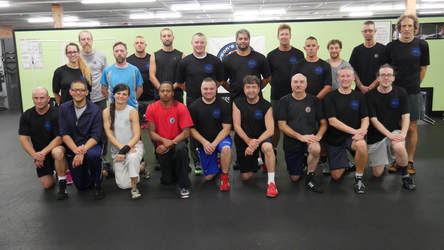 Our 2019 Enrollment is under way for all our classes, please check schedule
​ Cardio & Zumba Program will begin in February.
Fuson's Eclectic Martial Arts & Jeet Kune Do Academy
Home of the Rarest Combative Martial Arts in Michiana
​
​
South Bend Indiana's Leading Academy for Progressive Martial Arts Training

Fuson's Eclectic Martial Arts & Jeet Kune Do Academy can offer the training and first hand experience you cant get anywhere else, we specialize in real world self defense and not tournament or sport fighting.

Our Head instructor, Sifu/Guro Russell Fuson is a military veteran who has used life and death techniques in the real world and knows what does and does not work. He is a second generation student of Bruce Lee ( founder of Jeet Kune Do ) and has worked with Senior Grand Master Ed Parker( founder of American Kenpo)and has had the privilege to work with many Masters & Grandmasters of several styles and systems of the martial arts.

Sifu Fuson began his martial arts training in 1976 and holds a number of Black Belts and Instructor credentials in several systems and still continues to cross train in numerous arts.
Sifu Fuson works with Law Enforcement Personal and is an active trainer of both Military and Law Enforcement.
he has taught Local and State Police Defensive Tactics Officers, Federal Air Marshall's, Gaming Police, as well as other Local, State, and Federal Officers his methods of defense to enhance their skills, and even has trained Hollywood Actors and worked as their Stunt & Weapons Supervisor for movies.

Fuson's Eclectic Martial Arts & Jeet Kune Do Academy offers not just the experience and training from one of the best instructors in their field, but the first hand experience of someone who knows what will and will not work in many hostile situations.
Having been involved with some of the top martial artists in the World, and working in hot spots around the world, has given Sifu Fuson the unique understanding of effective methods of defense not seen or experienced first hand by many other instructors

Sifu Fuson not only trained, military, federal, state, & local law enforcement, in defensive tactics, & survival skills, but has personally employed these tactics in the field under hostile combative conditions , not just in training.

Whether you are a civilian looking for good functional self-defense, to improve your training, a member of the law enforcement community and are seeking to increase your defensive tactics, a solider to enhance your empty hand, knife, stick or sword survival skills, a bodyguard, bouncer, security officer or just a fan of the martial arts looking to find a practical self defense method, we can help you.

Most importantly, we are members of only honest martial arts associations and offer our students the ability to become members affiliated with us to train without the corruption and deceit, sometimes found in other large well known organizations.
​
​Beware of those corrupt associations, I have been a member of some that have had Senior Full Instructors engage in illegal acts such as Fiduciary Interference, Intimidation, Deceit and even Theft of association fees from its member to get them kicked out and take their students.
Then had the widows of the founder of the association be informed of these actions( thus making her guilty of collusion and culpability) create lies and to further hide corrupt actions of their senior members.
​Our Association is run by Non corrupt Martial Artists with your interest in mind, we do not engage in deception and corruption.